Get the Witch Digest Android App
NEW FOR 2017
A quick reference for those who practice Witchcraft and Magick, great for Witches, Wiccans, and the curious pagan.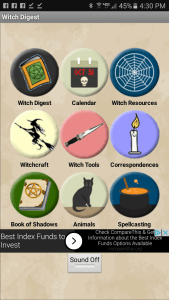 The app includes: 
Calendar with Sabbats and Esbats, Moon Phases with (VOC) Void Of Course.
Quick Sabbats and Full Moons < New
Articles about the Craft.
How too's on Creating and Casting Spells.
Witch Resources Directory < New
Witchcraft.
Magick Tools of the trade.
Correspondences.
Book of Shadows reference and use.
A guide to Familiar and Power Animals.
What people are saying about the Witch Digest App

© 2015 Google Inc. All rights reserved. Google and the Google Logo are registered trademarks of Google Inc.